About side dump trailer
Table of contents:
Side dump trailers - side tipper trailers are a great way to transport large amounts of construction materials on the road, remove waste and other payloads and dump them to other places quickly and easily.
Panda Mech side dump semi trailers are ready to go to work in your industry. For decades, we've created innovative hauling solutions.
Any transportation will experience higher safety and stability, and more general methods can be used to complete the work.
When it comes to excellent stability, easier unloading and faster cycle times – Panda Mech side dump trailers are second to none.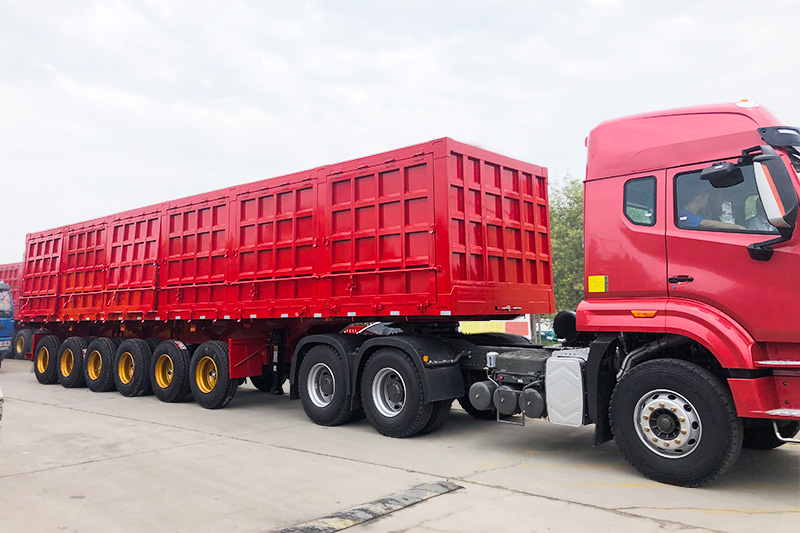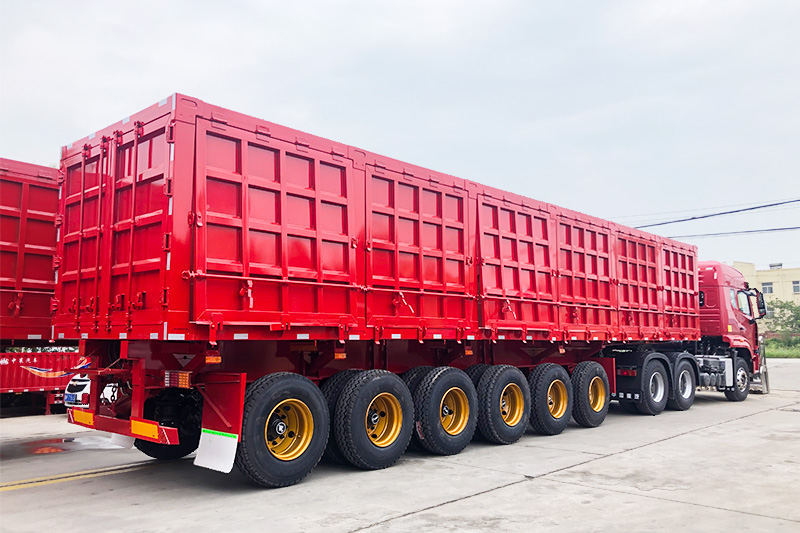 | | |
| --- | --- |
| Manufacturer | Panda Mech 2020 side dump semi trailers |
| Capacity | 25cbm, 30cbm, 45m3, customieze |
| Overall dimensions (mm) | 8000/9300/12000-*2500*3500 mm |
| Side dump trailer length | 26/30/39 ft |
| Side dump trailer height | 8ft |
| Body dimensions (mm) | 7784/8500/12625*2400*1380 mm |
| Chassis | Heavy duty and extra durability designed I beam |
| Axle | 2,3,4 Axles, tandem axle |
| Axle heavy | 380kg |
| Hydraulic system | HYVA hydraulic cylinder |
| Cylinder | 175, 191, 202, 214 / 4TG, 5TG |
| Suspension | Mechanical suspension / Spring suspension |
| Kingpin | JOST 2" or 3.5 detachable type |
| Landing gear | JOST 28T |
| Braking system | ABS or EBS (optional) |
| Material | 5mm or 6mm high strength steel |
| Tire | 12R 22.5 315/80 R22.5 |
| Spare tire carrier | one set of the spare tire including a carrier |
| Accessories | One standard toolbox, one rocker handle, one Shaft wrench |
| Brake chambers | T30/30 |
| Side tipper semi trailer parts | Electric system, brake system, axle, tire, suspension, latch, kit. |
| Inquiry Now | Leave my suggestion |
  Material:
  Hardox 450 or equal wear and abrasion-resistant material box, T700 high tension beam, tare weight lighter 2000kg than normal material tipper, longer service time and lower fuel consumption
  U section box:
  U model box design and analysis, larger section area with lower barycentre, load more and unloading easier, safely and efficiently
  Chassis:
  Double web for main beam design, stronger for multi road condition
  Cylinder:
  FC and FE model optional, higher operating pressure, help Max 45° tilt angle, reducing turnaround time with faster-ripping speed, increasing operating time with long service intervals
  Brackets:
  Improved design with better stress and fatigue resistance
  Knock off:
  Robust design precise actuation protect box working in safety angle
  Tilt Shaft:
  Heavy-duty design support working stable when tilting, more durable and safety
  Fasten Sys:
  Rear door auto fasten lock efficiency work, adjustable design keep suitable situation,easy maintenance and replace
  Auxiliary support frame:
  An auxiliary support frame support box with chassis, avoid box tilt, in order to work more safely
25 CBM side dump truck trailer price: $8,000-$12,000.
30 CBM side dump tipper trailer price: $9,000-$15,000.
45 CBM side dumping trailer price: $10,000-$18,000.
Side dump trailer price depends on the side dump trailer specifications. (we can customize according to your needs.)
Contact us for side dump trailers price. We are a side dumper trailer manufacturer from China. We supply side dumper trailers and end dump land trailer for sale. We can also customize according to your needs. Panda Mech manufacturers have been successful in Southeast Asia, the Middle East, Africa and South America, such as the Philippines, Tanzania, etc.... More about panda
FAQ about side dump trailer:
The side dump trailer is also called a side dump or side dumper. It is generally used to transport sand and gravel, gravel, demolition waste, coal, etc., and is used more in urban construction.
Side dump trailer appeared in 1990. The semi-trailer is raised from the side by hydraulic cylinders, which improves stability and safety. The side dump trailer can be operated directly in the cab, and the operator can tow and unload safely. All kinds of materials can be unloaded faster and safer, improving operational efficiency and increasing revenue.
Side dump trailer is mainly used for the transportation of bulk cargo such as coal, ore, earthwork, building materials, etc. It is generally related to construction sites, coal plants, and some construction-related places. Side dump trailer has greatly accelerated the development of urban construction.
The weigh of the side dump trailer: 9-14ton.
25CBM side tipper trailer: 9ton.
45CBM side tipper trailer:14 ton.
The side dump trailer can generally be used for between 6 to 8 years, but when it is used, it must be maintained and checked frequently to ensure the normal use of the side dump trailer.
Side dump trailers usually vary greatly according to different uses. Panda Mech side dump trailers can hold 25-120 tons or more. We can advise you according to your needs and customize it for you.
End dump trailer length: 8.7-13.1 yard;
End dump truck trailer width: 2.7 yards;
End dump trailer height: 3.8 yards.
How many cubic yards an end dump trailer can load is determined by its length, width and height. The longer the length, the more cargo can be loaded. Basically, they are larger than 20 cubic yards.
The engine drives the hydraulic pump through the transmission and the power take-off device. The high-pressure oil enters the lifting hydraulic cylinder through the distribution valve and the oil pipe and pushes the piston rod to cause the carriage to tip over. The movement of the piston rod is controlled by the control system, so that the carriage can be stopped at any required tilt position. The carriage uses its own gravity and hydraulic control to reset.
We have 2014 side dump trailers for sale, 2018 side dump trailers for sale. But we recommend that when you buy a side dump trailer, it is recommended not to buy a side dump trailer that has been used for more than five years because if it is used in this way, it is particularly prone to problems.
A used dump trailer needs to cost: $6500-$9500. Maybe a used side dump trailer and a new side dump trailer cost the same.